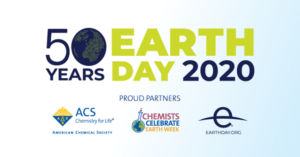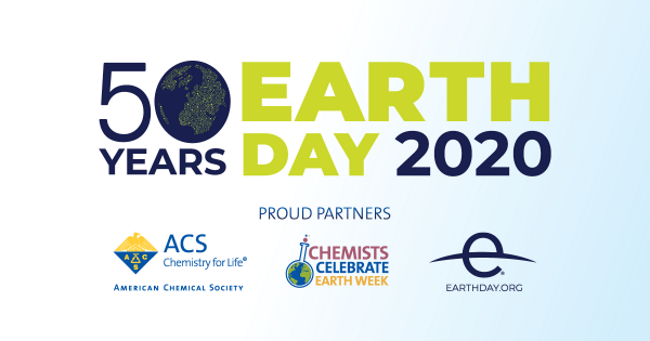 On April 22, Earth Day 2020 will mark the 50th anniversary of the world's largest environmental movement, and the American Chemical Society (ACS) is a proud partner for this milestone event.
The Great Global Cleanup
We are building Earth's largest cleanup crew!
Will you join us?
Join ACS, Earth Day Network, and partners across the world to build Earth's largest cleanup crew. Click here to find a clean-up event near you, and let them know the California Section sent you.
"Protecting Our Planet Through Chemistry"
The California Section is sponsoring an Illustrated Poem Contest for students in kindergarten through 12th grade.
Contest rules here.  Entry Form here.
Contest Deadline: Monday 22nd April 2020
Prizes: $50 gift certificate to ACS On-line Store
Contact: Sushila.Kanodia@gmail.com/510-351-9922 (section office)
2950 Merced St #225, San Leandro, CA 94577
Winners of California Local Section's Illustrated Poem Contest will advance to the National Illustrated Poem Contest for a chance to be featured on the ACS website and win prizes!
The California Section returns to the John Muir National Historic Site in Martinez, CA. for this year's
on Saturday, April 18th 2020, 10 AM to 4 PM. We will join dozens of other community groups to share ideas, souvenirs, and hands-on activities with hundreds of visitors. At the Cal ACS canopy location, demonstrations and hands-on activities will relate to the ACS Earth Day 2020 theme, "Protecting Our Planet Through Chemistry" .  We will have copies of Celebrating Chemistry (in English and Spanish) with activities that families can try at home, as well as Periodic Table wallet cards, and other cool souvenirs.
We are looking for volunteers for the April 18th event. Preferred shifts are from 10-1 PM and 1-4 PM. Please contact sushila.kanodia@gmail.com or office@calacs.org
JOHN MUIR NATIONAL HISTORIC SITE
4202 Alhambra Ave., Martinez, CA 94553
Access education resources, including free Earth Week related video content:
https://www.acs.org/content/acs/en/education/outreach/ccew/educational-resources.html
Past Earth Week Celebrations: