Chemists Celebrate Earth Week 2019
"Take Note: The Chemistry of Paper"
We're off to an early start with public outreach in the California Section this spring and you can help!
Well before Earth Day itself arrived, Cal ACS volunteers participated in three school events:
Korematsu Middle School Science Fair (El Cerrito) – 05 February 2019
Glorietta Elementary School Science Fair (Orinda) – 20 March 2019
Bancroft Middle School Family Science Night (San Leandro) – 21 March 2019
United for Success Academy Family Science Night (Oakland) – 02 May 2019
The California Section returns to the John Muir National Historic Site in Martinez, CA. for this year's celebration of Earth Day (and John Muir's birthday) on Saturday, April 20st, 2019, 10 AM to 4 PM. We will join dozens of other community groups to share ideas, souvenirs, and hands-on activities with hundreds of visitors. At the Cal ACS canopy location, demonstrations and hands-on activities will relate to the ACS Earth Day 2018 theme, "Take Note: The Chemistry of Paper" . We will have copies of Celebrating Chemistry (in English and Spanish) with activities that families can try at home, as well as Periodic Table wallet cards, and other cool souvenirs.
We are looking for volunteers for the April 20th event. Preferred shifts are from 10-1 PM and 1-4 PM. Please contact sushila.kanodia@gmail.com or office@calacs.org
JOHN MUIR NATIONAL HISTORIC SITE
4202 Alhambra Ave., Martinez, CA 94553
Cal ACS presented hands-on chemistry activities throughout the day while distributing Celebrating Chemistry and IYPT 2019 Periodic Table wallet cards to hundreds of visitors. Cal ACS shared the message that "Chemistry is Fun!" and that chemists have an essential role in protecting the environment through the recycling and efficient use of resources such as paper. UV-color-changing beads are a great starting point for learning about chemistry and the interaction of sunlight with our bodies; young scientists were eager to make a UV-detecting bracelet. Chemistry fans could also learn about the elements and IYPT 2019 while trying to assemble a Periodic Table puzzle.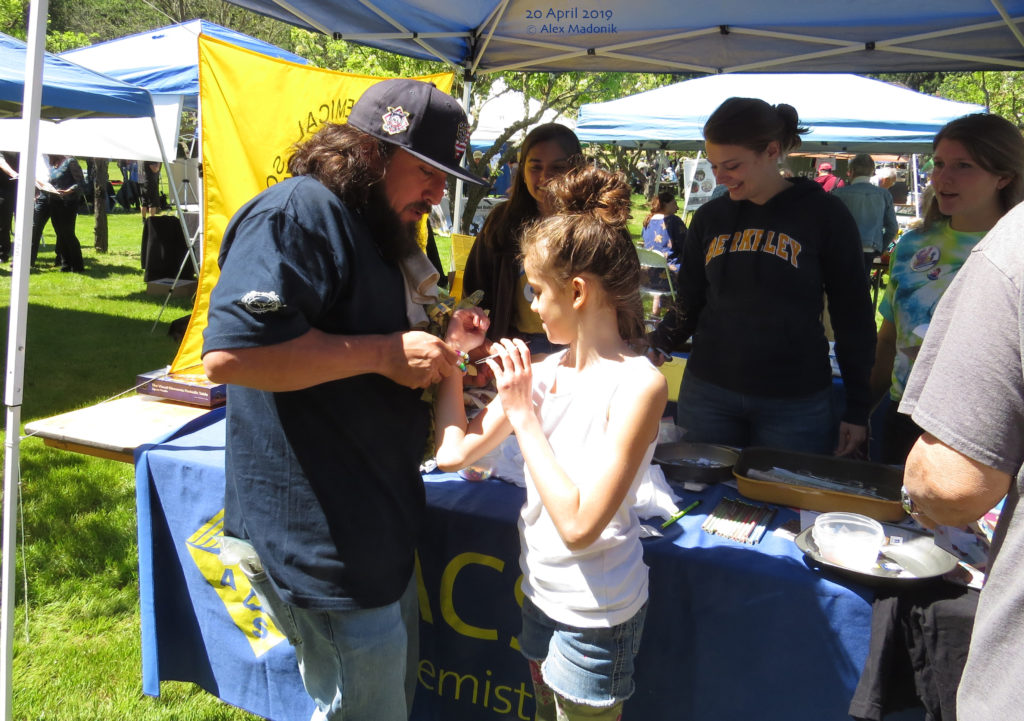 Access education resources, including free Earth Week related video content:
https://www.acs.org/content/acs/en/education/outreach/ccew/educational-resources.html
Here are the winning entries to Earth Week Illustrated Poem Contest – thank you, Jenelle Ball and her students at Chico High School.