22nd Annual ChemLuminary Awards Ceremony
The California Section participated in the virtual celebration on Wednesday, December 9, at 1 pm PT.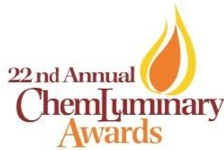 This year's theme, "2020 Focus on Our Volunteers: Moving Chemistry Forward," honored the work of our volunteers to continue to improve people's lives.
The ceremony included a keynote address by Janet L. Bryant, recipient of the 2020 Award for Volunteer Service to the American Chemical Society. We enjoyed live winner announcements and presentations of all ChemLuminary Awards given by 23 committees of the Society.
The California Section was a finalist for six awards:
Outstanding Local Section Industry Event — awarded jointly to the California and Silicon Valley Local Sections for organizing the first Bay Area Chemistry Symposium
Outstanding Project SEED Program Award
Best New Public Relations Program of a Local Section
Local Section Partnership Award/Marinda Li Wu Award
MAC Industry Engagement & Outreach
Outstanding Engagement with K-8 Students
More info and links to 2019 event photos. Here's the photo gallery.