ELEMENTS at the Marin Society of Artists

What do paintings, sculpture, photographs – in fact, all matter – have in common? Elements! Whether created in the Big Bang or in modern science labs, everything we experience as matter is made up of Elements, substances consisting of a single type of atom.
The United Nations has proclaimed 2019 to be the International Year of the Periodic Table of the Chemical Elements, in honor of the Table's 150th anniversary.  ELEMENTS, a national fine arts exhibition at the Marin Society of Artists in San Rafael, is one of the first events of this worldwide celebration! We have invited artists to interpret the theme of Elements in whatever way brings it to life for them – from alchemy to particle physics to wacky whimsy, an Element's mystique, mythology, discovery, uses throughout history, use in art, the magical areas between the particles of the atoms, philosophical or mystical flights of fancy.
The exhibition opens on January 10, 2019, and continues through February 2, 2019. The public is invited to come explore what artists have to say about the Elements. Each artwork will be accompanied by a label explaining its connection to the theme. Gallery hours are Wednesday through Sunday, noon to 4 p.m. All are welcome to join us for the reception for the artists on Friday, January 11, 2019; this is in conjunction with the San Rafael 2nd Friday Art Walk. Chemists are especially welcome to attend!
Where: Marin Society of Artists, 1515 Third Street, San Rafael, CA 94901.
When: January 10 to February 2, 2019, Wed-Sun noon to 4 p.m.
Reception & awards presentation: Friday, January 11, 2019, 5 to 8 p.m.
Cost: Free
Contact: Marin Society of Artists, 415-454-9561
You can contribute to the Periodic Table designed by Gail Morrison: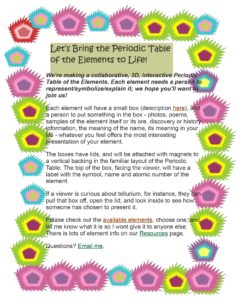 Visit her web page