Successful STEM Women of Color Must Network Differently
When:
August 4, 2020 @ 6:00 pm – 7:00 pm
America/Los Angeles Timezone
2020-08-04T18:00:00-07:00
2020-08-04T19:00:00-07:00
Contact:
AWIS East Bay California and American Chemical Society California Section
Please join us for a co-sponsored event between ACS and AWIS. We will hear from our distinguished speaker, Dr. Sherine O. Obare. The event will include a presentation followed by a Q&A session.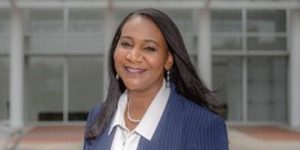 Women are always encouraged to network, but often are not given the full instructions on what the outcome of the network could or should be. Seldom are they mentored to network in ways that they are viewed as contributors who bring impact and value to the discipline. The purpose of this talk is to provide some guidelines from lessons learned about networking not only through the speaker's experience as a faculty member moving through the ranks, but as a university administrator, and a leader in a national organization (Ref).
Dr. Sherine Obare is the Dean of the Joint School of Nanoscience and Nanoengineering at the North Carolina Agricultural and Technical State University and the University of North Carolina at Greensboro. She is an Environmental Chemist and a Full Professor of Nanoscience at the University of North Carolina at Greensboro. She serves as the Program Chair for the ACS Division of Environmental Chemistry and is also Chair-Elect for this Division. She has published over 100 articles. She has trained over 100 students in her laboratory and is the recipient of various prestigious awards. In 2013, Obare was named as one of the top 25 Women Professors in Michigan. In 2019, she was elected as Fellow of the American Chemical Society. The Triad Business Journal recognized Obare as a Triad Power Player in 2019, and as an Outstanding Women in Business in 2020.
This event is FREE and Open to All!